Heavy Psych Sounds records is stoked to announce  the Sludge Split of the year! LENTO/TONS featuring 5 brand new unreleased tracks !!
Awesome artwork by ALAN FORBES. HPS011 is released in 3 different coloured 12″ vinyl
200 ltd red marbled in black
150 ltd yellow vinyl
150 ltd brown
EFT has few copies for each color for sale…chek it out! You can buy it in our SHOP.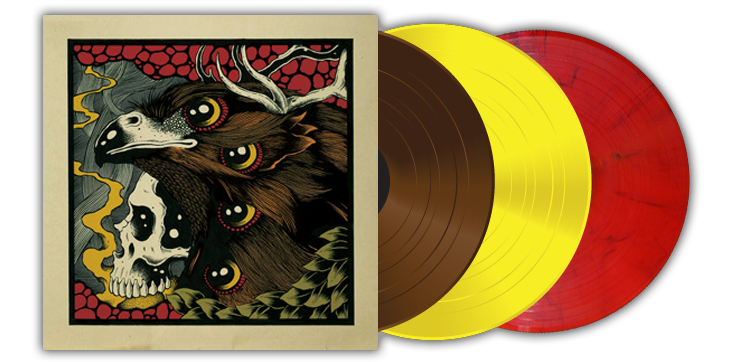 COVER ART BY ALAN FORBES – WWW.SECRETSERPENTS.COM
COLORING & LAYOUT BY STEUSO – WWW.STEUSO.COM
———————————————————–
TONS is an italian band formed in Turin in October 2009 from the ashes of three popular hardcore bands of the city. The aim of the band is to remain close to the harcore influence of the city where they were born but they decided to move on to sludge and doom.
First album "Musineè Doom Session Volume 1".
IN THE NAME OF RASPUTIN – 6:48
DARK MEDIEVAL SKUNK – 5:12
TONS: PAOLO: BASS & VOCALS – STEUSO: GUITARS – MARCO DINOCCO: DRUMS
FEATURING: LUCA T. MAI: BARITONE SAX – PAOLO PAGANELLI: SLIDE GUITARS
ALL SONGS WRITTEN AND PERFORMED BY TONS.
PRODUCED BY DANILO "DANO" BATTOCCHIO & TONS.
DRUMS RECORDED BY DANILO BATTOCCHIO & PAOLO PAGANELLI AT THE HOUSE OF ROCK, TORINO. BASS, GUITARS, FX & VOCALS RECORDED BY DANILO BATTOCCHIO AT THE TONS CAVE, COLLEGNO (TO).
MIXED BY DANILO BATTOCCHIO AT DEEPEST SEA STUDIO, TORINO.
MASTERED BY GIUSEPPE ZACCARIA AND LORENZO STECCONI AT LOCOMOTORE RECORDING STUDIO IN MAY 2013, ROME.
———————————————————–
LENTO is an instrumental musical venture commenced in Rome, Italy, in fall 2004 whose main purpose is to give shape to an introspective approach with relentless efforts. It took 3 years to develop as an artistic issue and to give birth to Earthen, released in 2007 on behalf of Supernaturalcat, with Relapse supplying US distribution.
HANDS OFF LOVE – 1:43
THE WORRIED MAN ON EARTH – 2:07
EMBRACE – 4:27
LENTO: FEDERICO COLELLA, DONATO LOIA, EMANUELE MASSA, LORENZO STECCONI.
SYNTHETIZERS: PAOLO TORNITORE
ALL SONGS WRITTEN AND PERFORMED BY LENTO EXCEPT "EMBRACE", WRITTEN BY LENTO AND PAOLO TORNITORE.
RECORDED BY LORENZO STECCONI WITH HIS MOBILE STUDIO IN OUR REHEARSAL SPACE BETWEEN MARCH AND MAY 2012.
MIXED BY MATTEO SPINAZZÈ AT HIS PRIVATE STUDIO BETWEEN JUNE AND JULY 2012.