EFT069 | split BOLOGNA VIOLENTA / DOGS FOR BREAKFAST
300 copies lp 12″ red vinyl + free download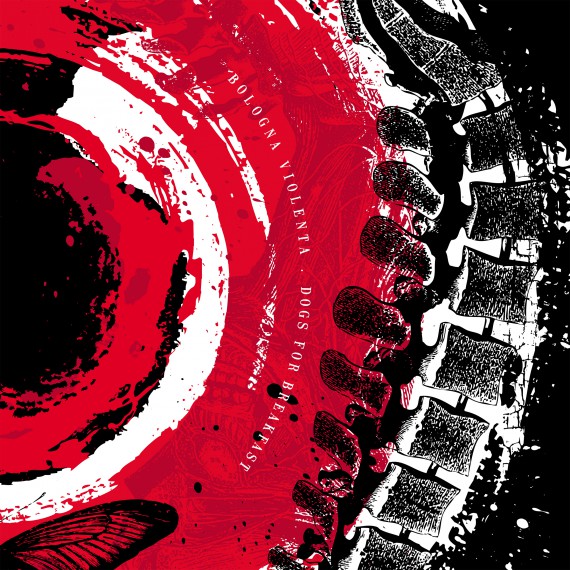 Produced by: Escape From Today, Dischi Bervisti, Overdrive
released 17 April 2015
BOLOGNA VIOLENTA
1.Allegro drammatico
2.Andante con moto
3.Scherzone
4.Allegro per modo di dire
DOGS FOR BREAKFAST
1.Gadea
2.Muhos
BOLOGNA VIOLENTA
Nicola Manzan – guitar, violin, viola, cello, gusli, synth, programming
Alessandro Vagnoni – drums
Marco Coslovich – vocals
Written by Nicola Manzan and Alessandro Vagnoni.
Produced by Nicola Manzan.
Recorded and mixed by Nicola Manzan and Nunzia Tamburrano at Casa Violenta, Treviso.
Drums recorded by Alessandro Vagnoni at Plaster Recording Studio, Potenza Picena (MC).
Mastered by Nicola Manzan.
Lyrics by: Marco Coslovich and Nicola Manzan.
Marco Coslovich appears courtesy of Southern Lord Recordings.
Nicola uses Gibson guitars, D'Addario strings and Carioni violins.
Alessandro plays exclusively Paiste cymbals.
DOGS FOR BREAKFAST
Paolo Oliva
Andrea Peracchia
Fabio Oliva
Produced by Massimiliano "Mano" Moccia and DOGSFORBREAKFAST.
Recorded and mixed by Massimiliano "Mano" Moccia at MAM Recording Studio (CUNEO).
Mastered by Giovanni Versari at "La Maestà Studio" (Faenza).
All words by Fabio Oliva.
Music by DOGSFORBREAKFAST.