Mercoledì 27 Novembre 2013
Ore 22 // gratuito
BLAH BLAH via Po 21 Torino
PAOLO SPACCAMONTI vs STEFANO PILIA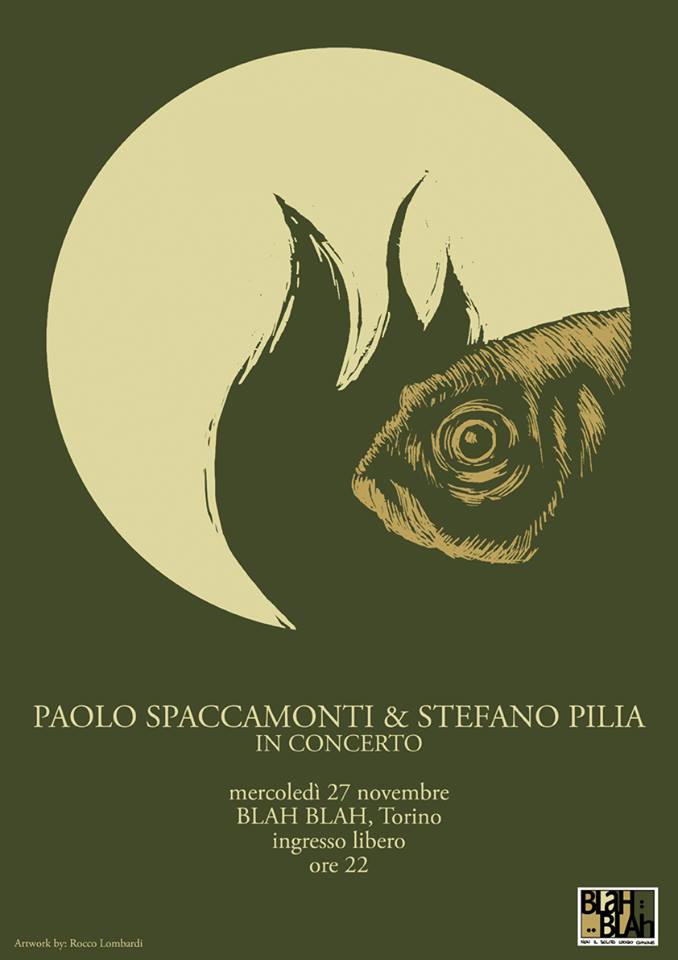 Presentazione Split LP "Frammenti – Stand behind the man behind the wire"
Per l'occasione i due chitarristi presenteranno dal vivo brani dello split LP recentemente condiviso oltre a brani di repertorio alternati a composizioni inedite.  Ognuno col proprio stile, ognuno col proprio live set.
Spaccamonti/Pilia  LP "Frammenti – Stand behind the man behind the wire"
(Escape From Today, Brigadisco)
Lp screen printed cover -70 numbered copies black vinyl / 230 numbered copies clear vinyl
"Quasi come fare air guitar da fermo. La chitarra distorta, accarezzata, resa binario di ritmo. Adattata. Alle emozioni più che agli accordi. Un assolo interiore che si divide. In due lati, uno a testa. Stefano Pilia e Paolo Spaccamonti sottraggono per stilizzare. Tolgono per amplificare. La magia è trattenere (le note) per trattenere (l'ascolto)".MAURIZIO BLATTO
Stefano Pilia: vive e lavora a Bologna dove si è diplomato presso il conservatorio G.B. Martini. Il suo lavoro si è avvicinato sempre più all'indagine della dimensione scultorea e spaziale del suono sia attraverso la pratica esecutiva strumentale sia attorno alla ricerca dei processi di registrazione e produzione sonora. E' tra i fondatori del gruppo 3/4HadBeenEliminated, sintesi tra improvvisazione, composizione elettroacustica e sensibilità avant rock. Suona dal vivo principalmente in solo, con In Zaire. Dal 2008 è parte dei Massimo Volume e dal 2012 chitarrista di Rokia Traoré. Collabora stabilmente con David Grubbs e Andrea Belfi nel BGP trio e nel "Sogno del Marinaio" con MIke Watt al basso e Belfi alla batteria. Ha collaborato frequentemente alla realizzazione del suono (sia live che su supporto) per produzioni teatrali, reading, film, installazioni e video arte (Zimmerfrei, NIco Vascellari, Homemovies, Wuming2, Emidio Clementi, Le luci della centrale elettrica… ). Ha collaborato con artisti e musicisti come, Rokia Traoré e John Parish, Phill Niblock, Marina Rosenfeld, David Tibet e ZU, Giuseppe Ielasi, Z'ev, Black Forest Black Sea, Rhys Chatam, David Maranha, Manuel Mota…ha pubblicato lavori discografici con numerose etichette italiane ed estere (Die-Schachtel, Presto?!, Hapna, LastVisibleDog, Sedimental, Soleilmoon, 8mm…).
Paolo Spaccamonti: chitarrista/compositore torinese dall'anima sperimentale, affianca alla sua attività solista – Undici Pezzi Facili / Buone Notizie- innumerevoli collaborazioni. Ha accompagnato nei suoi reading il giornalista Maurizio Blatto, curato e realizzato per il Museo Nazionale del Cinema di Torino la sonorizzazione di film muti come Rotaie di Mario Camerini (1929) e 'DRIFTERS' (John Grierson 1929), quest'ultimo al fianco di Ben Chasny (Six Organs of Admittance) oltre ad aver curato le musiche per il documentario 'Vite da recupero' di Enrico Verra. Del 2012 l'lp targato Spaccamombu, fusione in studio con i romani Mombu (Zu +Neo) mentre è fresco di stampa lo split album in condivisione con Stefano Pilia (Massimo Volume/In Zaire). Negli anni ha collaborato tra gli altri con Damo Suzuki (Can), Offlaga Disco Pax, Julia Kent, Larsen , Dj Gruff e partecipato a festival prestigiosi come Chamoisic, Traffic Festival, Musica90, Spaziale, Nuvolari, Musiche Possibili.
Le ultime copie disponibili dello split in edizione limita lp+download card le potete trovare sul nostro SHOP