Sabato 10 Aprile 20010
UNITED CLUB corso Vigevano 33/u, Torino, ore 22.30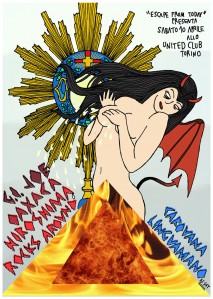 HIROSHIMA ROCKS AROUND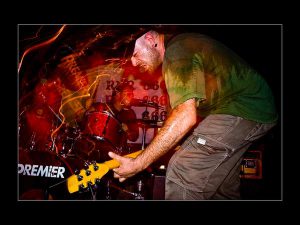 Hiroshima Rocks Around è un progetto aperto suscettibile dei nostri umori e capricci, e non ama essere spiegato; difficile inquadrarne il sound, perché semplicemente non abbiamo nulla che possa definirsi "nostro sound", cosi diranno alcuni che siamo una band blues decadente, altri una band corenoise con accenni metal, altri ancora una band punk garage; siamo e non siamo tutto ciò, non aderenti, non statici, non…
Insieme dal settembre 99, ci facciamo notare inizialmente con un cd demo home(HAND)made, pressochè irreperibile (15 copie in tutto), ma per buona parte presente sul nostro primo lavoro ISOLATION BUS BLUES (2001), registrato da Bonanji (BUZZER p), masterizzato al toolproduction da Ale Romeo, coprodotto dalla nostra no-fi rec. e da vurt recordz, con distribuzione wide prima, goodfellas attualmente.
L'apprezzamento da parte dei tipi di Hup concerti ci porta a dividere il palco con alcune delle band più entusiasmanti del panorama indie internazionale ( US MAPLE, FRUMPIES, RUINS, ONEIDA, TRUMANS WATERS, OLD TIME RELIJUN, OXES; per nominarne alcuni).
L' attivita live ci ha portato ad incrociare anche band indipendenti italiane e a stringere amicizia con ZU, R.U.N.I., SPRIGGAM, BUZZER p, BORIS, MOTORAMA, LASTGREENFIELD e altri.
Nel marzo 2003 entriamo in studio al THE CAVE di Catania per realizzare il nostro secondo lavoro, autoprodotto insieme a Don Grasso, con Luca degli ZU ospite al sax baritono su due tracce. Dal titolo "HRA666", il disco è uscito solo in vinile (vergine, 180gr.) per la nostra no-fi con distribuzione goodfellas. Fuori ora sull'etichetta americana Kill Shaman uno split LP con i BipolarBear. In cantiera la stampa italiana in cd dello stesso split che uscirà su escape from today e no=fi recondings e che sarà presentato proprio sabato 10 Aprile allo United Club.
EFT038 | HIROSHIMA ROCKS AROUND "III" |
handmade cd w/ silkscreened cover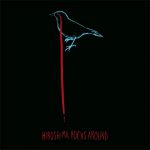 Produced by : Escape from Today, No=Fi Recordings
Realease date : April 2010
Price : 10€
Tracklist
______________________
01. The Matter of Facts
02. Al Denton nel Giorno del Giudizio
03. Wallace
04. Not Right
05. Wild Brushes
06. Disfunzioni Intestinali
07. Der Kanaro
08. Fecalomaz
09. Fogna
10. Row Aids
11. Closed Mouth
12. Geriatric
13. Major Labels eat their Shit  (ui ar de cempions)
G.I. JOE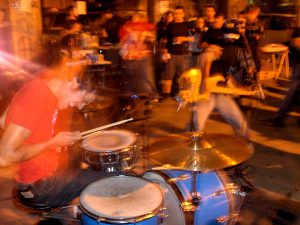 Frenesia, frenesia, frenesia per i G.I. Joe, duo bolognese basso e batteria. Ormai sulle scene da diversi anni, con un gran numero di date in giro per l'Italia e per l'Europa arrivano a Torino per presentare il loro nuovo lavoro "Tropico" in uscita su Holidays Records.
OAXACA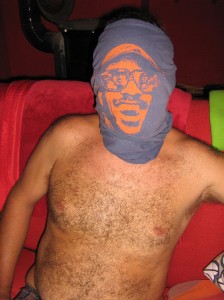 oAxAcA è la naturale evoluzione del duo funk blues Stylefire, formato nel 200o  da Mattia Bernardi( batteria) e Boto ( chitarra). dopo 6 anni  e una trentina di canzoni destrutturate( e mai pubblicate, eccezzion fatta per il 7″ Obliquicity, uscito per la minuscola e defunta Mondo Mutato), il duo passa alla completa assenza di struttura, istigato dal free jazz americano, la new thing, il terrore per la matematica, james brown,coltrane,davis. ecco dunque oAxAcA,  che da settembre 2009 si avvale della presenza di Diego Viada alla tromba.
A seguire CAROVANA LINGUAMANO dj set all night long!!!!