EFT035 | KING SUFFY GENERATOR "60 Minutes Circle" | cd digipack 500 copies + free download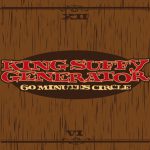 Produced by : Escape from Today
Realease date : November 2009
Price : 10€ Tracklist
Free Download : kingsuffygenerator.com
______________________
01. Broken Cigarettes
02. K Sequences
03. J.U.N.G.L.E.
04. Postdawn
05. Vampiri
06. 7 Aprile '54
07. Overlooks' Garden
08. Boulevards
09. King Suffy Generator
KING SUFFY GENERATOR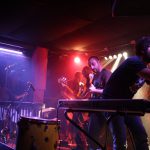 Dopo l'EP di 5 brani, "Psychosurf " uscito nel novembre 2007, "60 Minutes Circle" è il disco di debutto dei King Suffy Generator, registrato alla Sauna studio di Varese da Andrea Cajelli e Marco Sessa. Il lavoro di studio è stato profondamente influenzato dalle tecniche analogiche di registrazione degli anni 70′ , dall'impatto del suono e  dello stato di coscienza tipico delle loro performance live.
Registrato e mixato tra marzo e settembre 2009, l'album è concepito come una lavoro sulla durata, un'estensione della coscienza attraverso l' ascolto, la dilatatazione temporale attraverso nove brani per una durata complessiva di sessanta minuti.
I King Suffy nascono alla fine del 2005 da Dario Bandini (chitarra e  synth) e Walter Magri (basso) a cui da subito si aggiungono il già compagno di musica Stefano Cuccovillo (synth e chitarre), Alberto Grossetti (batteria) e Daniele Tori (chitarra e saxofono). Durante la stesura in studio di "60 minutes circle" i KSG hanno coinvolto il poliedrico percussionista visionario Davide Merlino, che dopo questa esperienza è diventato parte integrante di questo progetto.
L'album ha avuto inoltre la collaborazione di Fabio Poggiana (chitarrista della band Post-rock verbanese Leominor), che ha suonato nella traccia di apertura "Broken Cigarettes".
Il suono dei KSG, dalle radici surf, rock 'n' roll strumentale, si è sviluppato in questo disco, attraverso la psichedelia ed il rock progressivo, e la costante ricerca di una forma libera, ipnotica e melodica di espressione. la band cerca di mischiare molte forme musicali diverse che prendono spunto dal rock, dalla psychedelia e dal blues, cercando di sviare ogni tipo di appartenenza a scene o mode, non ponendo veti alla creatività che scaturisce dalla variegata formazione musicale/culturale dei componenti.
'mah a me piace l'idea di viaggio, nel senso che ascoltare i king suffy é come salire sul loro furgone e farti portare in posti nuovi'
(Carlotta Cardana, Mexico City, 1st december 2009, 17.12).
'they manage to sound laid back and chilled, remind me of old 60's psych funk like the mighty Caterpillar, yet the next riff will turn the pace up ad weight with a stoned dose of old school Kyuss or Nebula. And take out the vocals – King Suffy are instrumental'
(Bad Acid Tab6 dvd/audio Magazine, UK).