Giovedì 08 Ottobre 2009 @ Fattore K, dalle ore 19.30
ESCAPE FROM TODAY & SMARTZ presentano :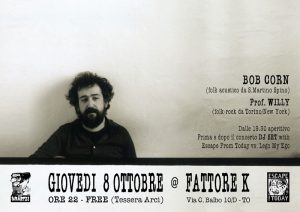 BOB CORN – Da San Martino Spino, dopo il NOfest! ritorna in città. Folk acustico di strada.
PROF. WILLY – Torino/New York, folk rock, tutto da scoprire.

Prima e dopo il concerto EFT vs. LegoMyEgo Dj Set.
Lunedì 05 Ottobre 2009 @ United Club, ore 22
ESCAPE FROM TODAY  presenta :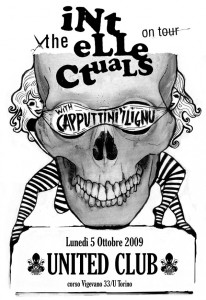 INTELLECTUALS – Nati nel '99, con in mente il punk '77 e il garage degli anni 60. Ora dopo tanti concerti e 10 anni di attività hanno influenze diverse pur mantenendo uno stretto legame con la matrice punk e allargato la formazione ad un terzo elemento che suona un piccolo farfisa rendendo i nostri pezzi più 'weirdy'. Dal vivo hanno un forte impatto fun e rock'n'roll con brevi ma intense pause di raw blues. da non perdere assolutamente! Gli intellettuali di Roma sono un trio disarticolato e nevrotico che propone un deragliante sound in bilico tra low-li punk'n'roll e 'Art-Wave' americana anni '70 stile Devo, Screamers etc… Con cinque album all'attivo, innumerevoli 7″ e decine di concerti in Italia ed in Europa, sono tra le bands italiane piu' trascinanti ed apprezzate da fans ed addetti ai lavori!
CAPPUTTINI 'I LIGNU – Duo internazionale Palermo VS Strasburgo, membri di Cheb Samir and the Black Souls of Leviathan, Two Tears, Normals, White Africa, Corpus Christi e propongono un blues decisamente storto e malato.