|ESCAPE FROM TODAY|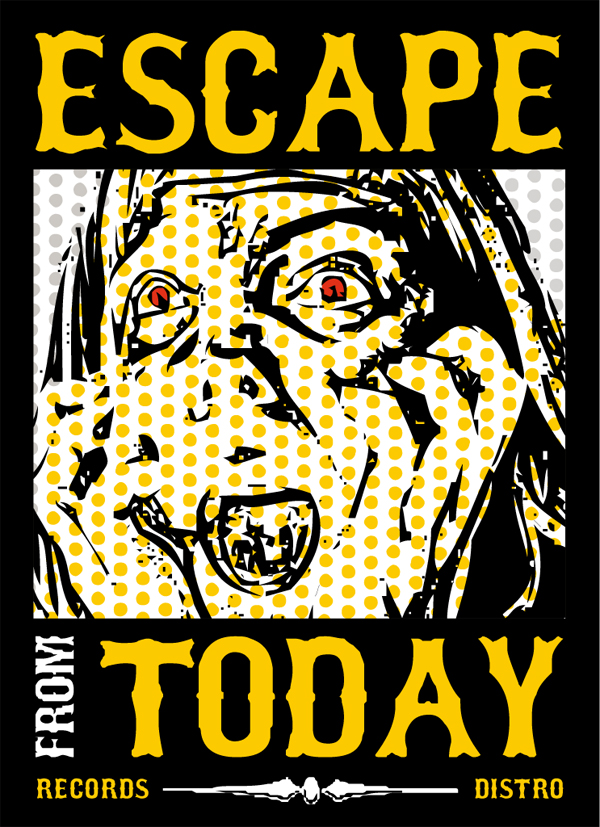 italian label & distribution punk.hc.r'n'r.scream.noise.electronic.&manyothers
___________________________________________________________________
Etichetta attiva dal 2002. Inizialmente legata unicamente all'ambito punk hardcore si è evoluta un maniera trasversale promuovendo band dai generi più svariati. Dal punk all'elettronica, dal noise al rock'n'roll, per arrivare anche a progetti acustici, strumentali e d'atmosfera.
Organizzazione di eventi vari nella nostra città e talvolta in giro per l'Italia.
Maggiori info : scrivi QUI
ACQUISTI
Per acquistare le produzioni eft o i dischi in mailorder puoi copiare i titoli che ti interessano, incollarli in una mail e inviare  QUI. Ti risponderemo con la conferma dell'ordine e il totale compreso le spese di spedizione.
Spedizione :
Paccocelere3 / Raccomandata (varia in base al numero di dischi)
Pagamento :
Paypal / Postepay
INVIO DEMO
Contattateci via mail per avere l'indirizzo per la spedizione.
The label was born in 2002 in the hardcore scene of Turin, our city. We started to produce only punk hc bands but after some years we decided to follow other generes. From punk to electronic, from noise to rock'n'roll but also acoustic and instrumental projects.

More info : write HERE
TO BUY
To buy some records you can copy the title you are interested in and paste it in a mail and finally write HERE your order. We reply you with the confirmation order and the total amount with shipping cost.
Shipping Cost :
Based on the weight of the package
Payment :
Paypal

DEMO
Write us and we send you our address.