SCREENPRINTING CONSPIRACY presenta "in mostra" :
Scrape Labs VS Mr. Squigii – steuso, gore e malafamilia design
serigrafia artigianale, poster art, rock attitude
closed : venerdì 14 gennaio 2011 ore 19.30 proiezione "Death to All" + dj Angel
Fattore K sofà caffè, via Cesare Balbo 10/d Torino
DEATH TO ALL dvd ita/eng
un film di : Jena Ielacqua
con : John Rugman
250 copies w/ screen printed cover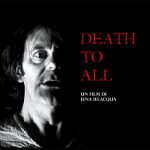 Produced by : escapefromtoday, stamin group, a.d. mmx
Editing : via Ceva XLVII Torino
Music by :
Jena & i favolosi passanti
Six Mistakes
Acetelio
Movie Star Junkies
King Suffy Generator
Cani Sciorrì
Price : 10€
"Può il Sacrificio di un Salvatore portarci alla vera Redenzione?"
Preparatevi ad affrontare un lungo viaggio tra le stanze di una mente contorta…quella del regista e della sua nuova fatica, sua e quella di tutto il set e cast. Una produzione Jena e i favolosi passanti, Stamin Group e Escape from Today.
Screenprinting Conspiracy è un progetto nato nel 2010 a Torino.
Racchiude diverse realtà che da anni operano in città su diversi fronti ma con la stessa attitudine. Scrape Labs, Mr. Squigii, Missiontoart, Sericraft, Steuso, Gore. Tutte realtà al passo con i tempi, ma che vogliono mantenere vivo lo spirito della tradizione.
Screenprinting Conspiracy si dedica alla stampa artigianale su qualsiasi tipo di superficie e supporto. In contrasto con la stampa digitale ormai padrona del mercato, vuole ridare valore al prodotto "fatto a mano", in pochi esemplari, ma ad un prezzo competitivo e accessibile a tutti.
Il progetto sarà "in mostra" da venerdì 17 Dicembre 2010 a venerdì 14 Gennaio presso il circolo Arci Fattore K di via Cesare Balbo 10/d a Torino. L'apertura e la chiusura dell'evento saranno organizzati in
collaborazione con "Escape from Today" etichetta musicale torinese attiva dal 2002.